Wildwood Wildlife Park Zoo & Safari is home to over 1,700 animals and 229 species! A visit to the Giraffe Serengeti brings you close enough to one of the tallest mammals in the world. When the giraffe leans down to nibble out of your hand, they might steal a kiss from you instead! The Parakeet Encounter is on everyone's favorite list! These colorful comical characters are sure to make everyone smile when they land on your hand, head or shoulder just to say "Hi". Guests will have the opportunity to hand feed many of our animals "critter food." This is zoo approved treats that can be purchased in the gift shop. Or you can purchase petting food pellets from our vending machines throughout the park. Don't be surprised when many of our residents come looking for a hand-out! Critter food/ petting food pellets can be fed to goats, sheep, deer, camel and aoudads. Or buy trout pellets from the feed machines and toss into the pond and see the entire surface come alive with a frenzy of trout or koi. Guests can just sit and relax in this peaceful and tranquil area.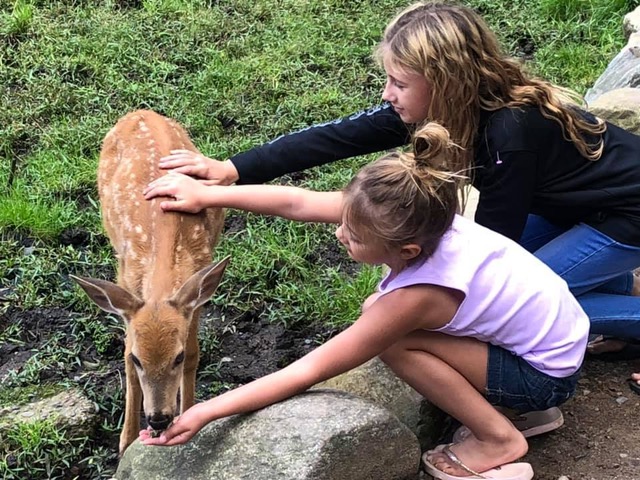 The fun begins as soon as you step foot through the zoo's main entrance! Enjoy the awesome petting zoo. Get up close and learn about amazing animals at the outdoor amphitheater. Leopard and tigers, oh my! Come and see many rare and endangered animals featuring the new Snow Leopards.
Check out some of the world's largest, rarest, and most impressive animals, including Giraffes, Zebras, Bongo, Arabian Oryx and more! Don't forget to take a ride on the Safari Tram and enjoy the guided 30-minute tour viewing magnificent animals including Kudu, Nyala, Beisa Oryx, Scimitar Oryx, Wildebeest, Eland and more. Or swing into the primate world where you will find the playful Gibbons and the loud Siamangs entertaining you. After that, waddle on down to the African penguins, where they will come and greet you up close!